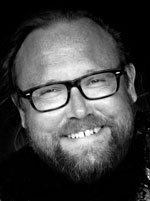 Ola Flyum
Regissør, journalist og forfatter



Ola Flyum har mange års erfaring som manusforfatter, regissør og journalist i en rekke aviser, NRKs Brennpunkt-redaksjon og skandinaviske produksjonsselskaper. Før det arbeidet han fra 1984 for aviser og tidsskrifter som Namdal Arbeiderblad (Namdals-avisa), Rana Blad, Nationen, Arbeiderbladet, Natur & Miljø, VG og Økonomisk Rapport.
Etter halvannet år i TV2s dokumentarprosjekt, Dokument 2, begynte Ola Flyum å jobbe for Nrk Brennpunkt i 1996. I mange år var han i seriens ledergruppe med ansvar for researcharbeidet i redaksjonen, før han selv begynte å regissere filmer – i alt 35.
Flyum har blant annet regissert to dokumentarer om krigen i Bosnia sammen med den britiske regissøren og forfatteren David Hebditch; Sporene fra Sarajevo og Byen som kunne ofres som ble solgt til fem kringkastere. Begge filmene hadde norsk TV-premiere på NRK i april 2011. Sporene fra Sarajevo ble første gang vist ved Kortfilmfestivalen i Grimstad i 2010.
Disse dokumentarene var bygget på Flyums og Hebditchs BBC-produserte film Allies & Lies (2001) som ble distribuert til mer enn 50 land.
Ola Flyum hadde også regi på filmen Taliban Oil som bla. ble vist av Nrk og Al Jazeera i 2015.
I 2004 hadde han også regi på filmen Kjenner du varmen om healeren Joralf «snåsamannen» Gjerstad i 2004, Jakten på Mulla Krekar i 2002 med Norunn Reinertsen hvor Norges mest omdiskuterte mulla ble kjent for første gang, samt historien til den siste gjenlevende av Rinnanbandens A-lag kalt En ond historie.
Flyum har vært nominert og mottatt priser for sitt journalistiske gravearbeid deriblant et SKUP-diplom med David Hebditch for filmene Skriftsamleren og De magiske krukkene (2004), samt en pris fra den USA-baserte The international Consortium of Investigative Journalist i 2006.
Av mer spesielle prosjekter hadde Ola Flyum ansvaret for all innholdsproduksjon og etableringen av Sula fiskeværsmuseum i 2018 og har også bygget opp reiselivsdestinasjonen Terna brygge med konsertscene, pub og sjømatrestaurant.
Ola Flyum har også skrevet fem bøker, blant annet Rammet av vold med Ola Thune 1996, Sjonglørene, 1997, og Rinnans testamente med Stein Slettebak Wangen i 2007.
For tiden utvikler Flyum med en rekke bok- og filmprosjekter bla sammen med Nrk og ulike filmproduksjonsselskaper i Trøndelag og Sør-Sudan.
Director, journalist and author



Ola Flyum has many years of experience as a screenwriter, director and journalist. In NRK's investigative series Brennpunkt, he has developed projects with several international production companies.
Since 1984 he has been a journalist for a number of newspapers and magazines such as Namdal Arbeiderblad, Rana Blad, Nationen, Arbeiderbladet, Natur & Miljø, VG and Økonomisk Rapport.
After a year and a half in TV2's documentary series, Dokument 2, Ola Flyum started to work for Nrk Brennpunkt in 1996. For many years he was in the series' management team with responsibility for the research- and pre production work, before he started directing films himself – 35 in all.
Among other things, Flyum has directed three documentaries about the war in Bosnia together with the British director and writer David Hebditch; A town betrayed and Sarajevo Ricochet that were sold to five broadcasters. Both films had their Norwegian TV premiere on NRK in April 2011.
These documentaries were based on the BBC-produced film Allies & Lies (2001) which was distributed to more than 50 countries.
Ola Flyum also directed the film Taliban Oil that revealed the secret negotiations between the American oil-company Unocal and Taliban. The film was also aired in Norwegian Broadcasting's (NRK) investigative series Brennpunkt in 2015.
In 2004, he also directed the film Kjenner du varmen (Do you feel the heat?) about the healer Joralf "Snåsamannen" Gjerstad in 2004, The hunt for Mullah Krekar in 2002, where Norway's most controversial Mullah's activities in Norway became known for the first time, as well as the story of the last survivor of the Rinnan-gang ¬ a band of feared traitors during the WW2; An Evil Story (2011) .
Flyum has been nominated and received awards for his journalistic work, including a Norwegian SKUP diploma for the films The scroll-collector and The magic bowls (2004), as well an award with director David Hebditch from The International Consortium of Investigative Journalists in 2006.
Of more special projects; Ola Flyum was responsible for all content production and the establishment of the Sula fishing village museum in 2018, and has also built up a tourism destination called Terna brygge – a concert scene, pub and seafood restaurant.
Ola Flyum has also written five books, including Rammet av vold (Affected by violence) with Ola Thune 1996, Sjonglørene (The jugglers) , 1997, and Rinnan's testament with Stein Slettebak Wangen in 2007.
Flyum is currently developing a number of book and film projects together with Nrk and various film filmproduction companies in Trøndelag and South-Sudan.